Our mission is to strengthen the area's tax base through economic development and job creation, to assist business to locate and expand within the County, and to promote Columbia County as a premier spot for both business investment and personal opportunity.

[nz_gap height="25″ /]
CEDC 2020 Virtual Annual Meeting
CEDC held its first virtual
Annual Meeting on October 14, 2020
The Olana Partnership
[nz_gap height="25″ /]
Frederic Church designed Olana as a holistic environment integrating his advanced ideas about art, architecture, landscape design, and environmental conservation over 40 years (1860-1900). Olana is the most intact 19th-century artist's home, studio, and landscape in the United States.
Please Note:
Due to the COVID-19 crisis, Columbia Economic Development will continue to conduct meetings via Conference Call until further notice. The public will have an opportunity to hear the meeting live and provide comments. Comments can also be provided via email before and during the meeting to mtucker@columbiaedc.com.
[nz_gap height="25″ /]
CONFERENCE CALL-IN NUMBER:
1-800-245-9874
ACCESS CODE:
3180900
Email Newsletters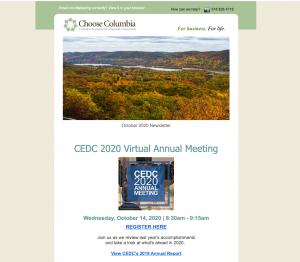 [nz_carousel animate="fade"][nz_item][nz_row][nz_col width="2″]
Germantown Laundromat & Shop
"Germantown Laundromat has been here over half a century…We wanted to keep the business going while adding products and services that support environmentally friendly behaviors, like a weekly seamstress for alterations and repairs. It's a laundromat that aims to teach the community the impact our daily choices have on our bodies and the earth."
[/nz_col][nz_col width="2″]

[/nz_col][/nz_row][/nz_item][/nz_carousel]
[nz_carousel animate="fade"][nz_item][nz_row][nz_col width="2″]
Talbott & Arding Cheese and Provisions
"CEDC provided an SBA Microloan to Talbott & Arding Cheese & Provisions shortly after it opened in 2014. The business leveraged those funds to expand and create jobs. As the business continues to grow, the owners are re-investing in both the business and their community. We are proud to recognize a true small business success story."
[/nz_col][nz_col width="2″]

[/nz_col][/nz_row][/nz_item][/nz_carousel]